COURSE OVERVIEW
The Professional Diploma of Skin Cancer Surgery provides an essential step towards subspecialisation in skin cancer surgery. You will learn the most advanced surgery techniques on atomically complex and cosmetically sensitive areas. This highly practical course is led by noted skin cancer doctors and a team of experienced GPs to assist you in your skills practice. The program covers surgical procedures for the nose and the lower limb, reconstruction of alar and sidewall nasal defects, reconstruction of the nasal tip and glabellar defects, skin grafts and flaps for the lower limb.
This course is the third part of the three-part Professional Diploma of Skin Cancer Surgery. The education pathway is Professional Certificate of Skin Cancer Surgery, Advanced Certificate of Skin Cancer Surgery and Professional Diploma of Skin Cancer Surgery.

ENTRY REQUIREMENTS and course requisites
This course is for general practitioners only. Participants must have completed the Advanced Certificate of Skin Cancer Surgery (or a qualification deemed equivalent).
Doctors who have completed the University of Queensland certificate courses in skin cancer surgery are able to gain credit for those studies, providing the relevant HealthCert assessment is completed prior to diploma studies commencing (please ask a HealthCert Education Advisor for the process).
Other qualifications and prior studies may also be recognised. Please ask a HealthCert Education Advisor for an individual assessment of your prior qualifications and experience.
COURSE CONTENTS AND LEARNING OUTCOMES
The course provides advanced training in skin cancer surgery and teaches various techniques allowing GPs to treat more complex cases in the primary care setting. The program includes practical surgery sessions. Our team of surgical assistants will guide and support you as you practise the various surgical techniques.
The theory and practical sessions cover:
Anatomy of nose, eyelids, lips and ears
Reconstruction of alar and nasal tip defects of the nose and bilobed flap
Reconstruction of lower eyelid defects
Reconstruction of complex lip and ear defects
Lower limb anatomy and surgical planning
Perforator island flaps for the lower limb
Course participants will:
Observe experts performing skin cancer surgery techniques on a large screen with close-up camera
Perform surgical techniques in a simulated environment and receive feedback
Participate in online discussion of patient cases, evaluate and make decisions
Receive a comprehensive course folder and research/readings in the field
Receive ongoing support post-course through webinars and case review
Optional surgical clinical attachments are also available at dedicated skin cancer clinics
COURSE OUTLINE
Saturday
| | | |
| --- | --- | --- |
| Time | Session | Topic |
| 8:15am - 8:45am | Registration | |
| 8:45am - 10:15am | Session 1 | Ellipses, advancement flaps and flap principles |
| 10:15am - 10:45am | Morning Tea | |
| 10:45am - 12:15pm | Session 2 | Rhomboids and transposition |
| 12:15pm - 1:15pm | Lunch | |
| 1:15pm - 2:45pm | Session 3 | Bilobed flap |
| 2:45pm - 3:15pm | Afternoon Tea | |
| 3:15pm - 4:45pm | Session 4 | Grafts SSG, HALO, FTSG |
Sunday
Time
Session
Topic
7:45am - 8:00am
Arrival
8:00am - 9:30am
Session 5
VY flap, Bazier flap and Keystone flap
(Continued in session 6)
9:30am - 10:00am
Morning Tea
10:00am - 11:30am
Session 6
VY flap, Bazier flap and Keystone flap anatomy
(Continued from session 5)
Surgical planning, tips and techniques
11.30am - 12:30pm
Lunch
12:30pm - 2:00pm
Session 7
Revision of flaps
2:00pm - 2:30pm
Afternoon Tea
2:30pm - 4:00pm
Session 8
Clinical application
Your instructors are widely regarded as some of the world's foremost specialists in skin cancer medicine and business management, including: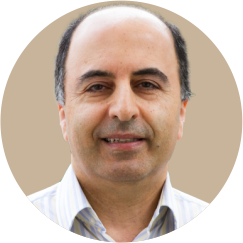 Dr Anthony Azzi
MBBS (SYD)
Master of Medicine (Skin Cancer) (UQ)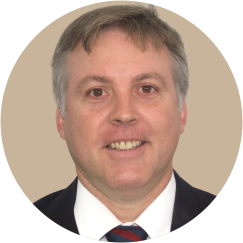 Dr Alister Lilleyman
MBBS (UWA)
Master of Medicine (Skin Cancer) (UQ) FSCCA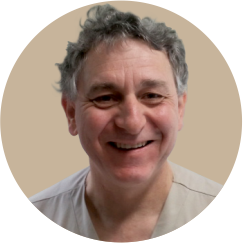 Dr Victor Harling
MBBS (UQ), Diploma (SCCA)
COURSE FEES AND PAYMENT OPTIONS
Regular Tution Fee
$3,195
Different payment options available.
Early Bird Rate
$2,995
Register 30 days in advance and save $200.
Deferred Payment
$845 x 4
Defer your payments over several months.
BUNDLE PRICING: If you would like to complete the full diploma program, please contact us to discuss available bundle pricing options.

GP REGISTRARS: Doctors in training who are on a recognised pathway to General Practice Registration through a recognised Australian training provider receive a HealthCert Scholarship of $500.
Course Delivery and Assessment
CERTIFICATION AND ACCREDITATION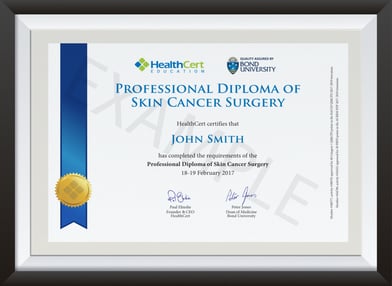 Upon completion of the course, you will receive the Professional Diploma of Skin Cancer Surgery.
Both the Saturday and Sunday components of this course have been applied for the Training Grant for Rural and Remote Procedural GPs Program (Procedural Grant Program).
RACGP: 40 Category 1 QI&CPD points
ACRRM: 30 PRPD + 30 Surgery MOPS points
This certificate course:
Is recognised by Royal New Zealand College of General Practitioners (RNZCGP).
Is accredited by the Skin Cancer Institute (SCI) and may be used as part of an application for Certified Skin Cancer Doctor credentials.
Qualifies for a clinical attachment in France at the University of Lyon
Qualifies for a clinical attachment in Austria at the University of Vienna
Has been collaboratively designed with, and is annually reviewed by, Professor David Wilkinson, Deputy Vice Chancellor at Macquarie University.
Education Pathways
This qualification may be used as part of an application for Certified Skin Cancer Doctor credentials at the Skin Cancer Institute.


Publications Pathway: For HealthCert Professional Diploma Alumni
HealthCert Professional Diploma Alumni may submit their own cases for publication in the HealthCert Case Compendium that is published annually. All cases will be reviewed by HealthCert experts before publication. These compendium cases will also be published electronically on the HealthCert Blog. Submissions are welcome every year for publication. All selected authors names will be printed in the compendium and doctors may wish to purchase a copy of the HealthCert Case Compendium for their waiting room.


Certified Clinical Attachments Pathway
Clinical Attachments are optional and available on a 1:1 or small group basis. These provide the opportunity to observe skin cancer surgery and ask questions of the expert performing the procedures. In addition to clinical attachments in Australia, university teaching hospitals at the University of Lyon and the University of Vienna are available for clinical attachments. HealthCert certificates and university statements are awarded for participating in clinical attachments.
The dominant areas of study covered by The Université Claude Bernard Lyon 1 are science and medicine. Attached to the university are the "Hospices civils de Lyon" including the "Centre Hospitalier Lyon Sud", which is the largest teaching hospital in the Rhône-Alpes region and second largest in France. Out of the 2630 faculty 700 are also medical practitioners at local teaching hospitals.
The Medical University of Vienna is the largest medical organisation in Austria, as well as one of the top-level research institutions in Europe and provides Europe's largest hospital, the Vienna General Hospital, with all of its medical staff. The Vienna General Hospital has about 100,000 patients treated as inpatients and 605,000 treated as outpatients each year.
| | | |
| --- | --- | --- |
| Dual Award with | Postgraduate RPL with | Clinical Attachment with |
| | | |
| | | |
| Clinical Attachment with | Clinical Attachment with | Accredited by |
| | | |
| | | |
| Accredited by | Accredited by | Accredited by |
| | | |