COURSE OVERVIEW
Acquire more advanced skin cancer surgery skills for more complex skin cancer cases, including flaps and grafts, in a highly practical program held in a small group setting with experienced skin cancer doctors and surgical assistants.

COURSE CONTENTS AND LEARNING OUTCOMES
The course provides advanced training in skin cancer surgery and teaches various techniques allowing GPs to treat more complex cases in the primary care setting.
As a result of this foundational training, you will be able to:
Explain how to tailor incisions to the patient, improving cosmetic outcomes and reducing scarring.
Describe surgical anatomy, skin lines and local anaesthetic blocks.
Identify dog ear repairs, wound care and various dressings.
Identify safe, advanced suture techniques needed to close excisions, including vertical mattress, horizontal mattress and deep suturing.
Explain how to perform rotation flaps and advancement flaps.
Describe when to apply full thickness grafts.
Identify limitations in training and experience referring necessary patients to the appropriate specialist.
This course includes practical surgery sessions. Our team of surgical assistants will guide and support you as you practise the various surgical techniques.

Practical activities in this workshop include:
Different types of suturing techniques
Elliptical excisions
Rotation flaps
Advancement flaps
Full thickness grafts
THIS TRAINING IS PERFECT FOR YOU IF YOU WANT TO...
gain confidence in removing skin cancers that require minor procedures rather than referring cases to another practitioner.
acquire and hone hands-on suturing and procedural techniques.
provide improved care in a regional or rural areas where your patients have no access to specialist help.
bill patients appropriately for all skin cancer cases.
upskill in a focused, outcome-driven training program that fits into your busy schedule.
TOPICS COVERED
1 Surgical foundations

1.1 Surgical anatomy and skin lines

1.2 Tailoring incisions to patient

1.3 Improving cosmetic outcomes and reducing scarring

1.4 Local anaesthetic blocks on face

1.5 Margins

2 Advanced skin suturing

2.1 Techniques of suturing

2.2 Vertical mattress

2.3 Horizontal mattress

2.4 Deep suturing

3 Wound care and dressing selection

3.1 Proper use of modern dressings and wound healing
4 Pivotal flaps

4.1 Rotation flap theory

4.2 Rotation flap practical session

5 Advancement flaps

5.1 Advancement flap theory

5.2 Advancement flap practical

6 Full thickness skin grafting

6.1 Skin graft properties

6.2 Healing

6.3 Management

6.4 Donor sites
| | | |
| --- | --- | --- |
| 7 Dog ears repairs | 8 Case studies | |
This practical-based workshop is led by experienced skin cancer doctors and university lecturers Dr Tony Dicker and Jonny Levy. The course presenters are joined by a team of experienced GPs to assist in the delivery of outstanding learning outcomes.

Dr Tony Dicker
MBBS, PhD
Senior lecturer (Skin Cancer), UQ School of Medicine
Course Co-ordinator Master of Medicine (Skin Cancer)
Dr Jonny Levy
MBBS BSc FRACGP FARGP
Senior lecturer (Skin Cancer), UQ School of Medicine
DELIVERY FORMAT
The UQ certificate course is designed to meet the needs of busy medical practitioners by combining a 2-day practical workshop with online training and assessment:
What you get for your one-off investment:
Online pre-workshop activity (to be completed in your own time prior to the workshop component).
Two-day weekend practical workshop including catering.
All materials including surgical instruments and consumables for practical sessions.
Full-colour workbook including all presentation slides.
Additional online training and assessment.
Post-workshop online assessment (to be completed in your own time within three months of attending the workshop).
University of Queensland School of Medicine award upon successfully passing the assessment.
CPD points (see below for details).
Lifetime support in monthly webinars with the opportunity to discuss cases with course presenters.
MELBOURNE
18 - 19 February 2017
Melbourne Convention and Exhibition Centre
ADELAIDE
1 - 2 April 2017
Adelaide Convention and Exhibition Centre
GOLD COAST
17 - 18 June 2017
The Gold Coast Convention and Exhibition Centre
COURSE FEES AND PAYMENT OPTIONS
Early Bird Rate
$2,995
Register 30 days in advance and save $200.
Regular Course Fee
$3,195
Different payment options available.
GP Registrars Rate
$2,695
Doctors in training receive a $500 scholarship.
ASSESSMENT REQUIREMENTS
This course features an online assessment, including multiple choice questions.
The assessment is to be completed at your convenience within three months of the completion of the workshop.
The open book exams are designed in such a way that they do not have to be completed in one sitting, with the ability to log in and out as many times as you wish.
ACCREDITATION
The Sunday component of this course has been approved for the Training Grant for Rural and Remote Procedural GPs Program (Procedural Grant Program).
RACGP:
40 Category 1 CPD points
ACRRM:
30 PRPD points + 30 PRPD Surgery points
UNIVERSITY OF QUEENSLAND SCHOOL OF MEDICINE CERTIFICATE
Upon successful completion of the course requirements, you will receive The University of Queensland School of Medicine Certificate in Primary Care Skin Cancer Surgery.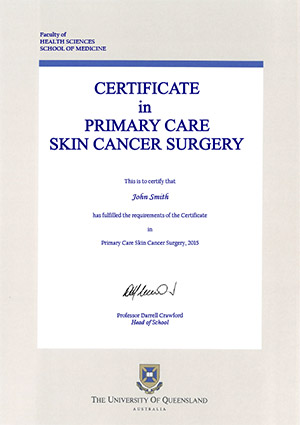 PROFESSIONAL PATHWAYS: WHAT ARE MY NEXT STEPS?
1. Pathway to Professional Diploma
The two foundational Skin Cancer Medicine courses are the Professional Certificate of Skin Cancer Medicine (Primary Care) and the Advanced Certificate in Skin Cancer Medicine (Therapeutics). Course participants who successfully complete the two Skin Cancer Medicine courses may continue their professional studies with training in Skin Cancer Surgery. The progression is: Professional Certificate of Skin Cancer Surgery (Primary Care), HealthCert Advanced Certificate of Skin Cancer Surgery and finally the HealthCert Professional Diploma of Skin Cancer Surgery.
2. Pathway to Clinical Attachments
After completing HealthCert skin cancer training, we recommend a HealthCert Clinical Attachment at a specialist clinic or university teaching hospital to further refine and enhance knowledge of professional procedures with experts.
We recommend that the first clinical attachment after completing HealthCert skin cancer training should be in Australia (to consolidate professional knowledge of procedures) and subsequent clinical attachments should be international (to expand horizons for treatment options).
The Medical University of Vienna and University of Lyon and many other partners work with us to offer clinical attachments in skin cancer.
3. Pathway to Professional Association
Experienced skin cancer doctors who have completed all of the HealthCert Skin Cancer Medicine and Surgery courses may apply to become a Certified Skin Cancer Doctor through the Skin Cancer Institute (SCI).
SCI is a global, multi-disciplinary organisation bringing together dermatologists, surgeons, general practitioners and nurses to optimize scarce resources through the exchange of ideas and research. SCI is working together with other similar organisations, complementing their excellent work, and is an associate member of the Union for International Cancer Control. World leaders in the skin cancer field have been mobilised to create the Skin Cancer Institute that has set an independent standard for the certification of skin cancer doctors and accreditation of skin cancer courses globally.
POSTGRADUATE PATHWAYS
Postgraduate studies are suitable for doctors who are interested in academic studies and research.
Masters of Medicine (Skin Cancer) at University of Queensland
For postgraduate study in the Skin Cancer field, HealthCert recommends the Masters of Medicine (Skin Cancer) at the University of Queensland. Please contact Associate Professor Cliff Rosendahl at the University of Queensland for an initial discussion about enrolling in the Masters of Medicine (Skin Cancer).
The HealthCert Professional Certificate of Skin Cancer Surgery (Primary Care) meets the practical surgery requirement of IMED7011.